The persistent redness and flushing from Rosacea on the cheeks, forehead, and nose can progress to more intense redness and an acne-like rash if left untreated. This chronic skin condition is more common in women than men, and typically develops between ages 30 and 50. Rosacea can be intensified by a variety of factors, including sun exposure, heat, physical exertion, certain types of food, drugs, alcohol, and stress.
In addition to topical treatments, Intense Pulsed Light (IPL) or laser therapy can offer you more options to improve this condition.

Before & After Photos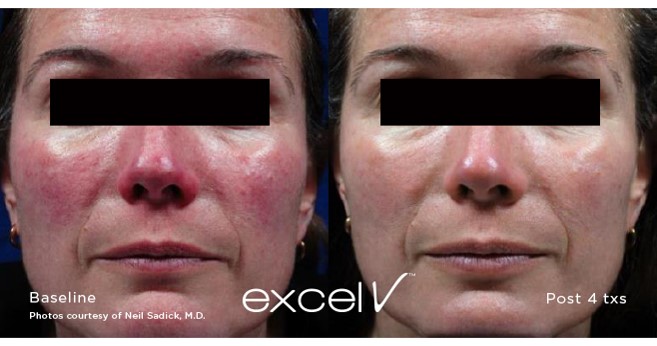 Treatment Options
Intense Pulse Light (IPL) safely treats lesions.
Laser treatments can rectify a number of conditions, including Rosacea.
BBL™ technology uses intense pulsed light (IPL) to treat sun damage, wrinkles, acne, and much more.
Contour TRL™ offers full-field facial resurfacing to treat a variety of skin issues.
Halo™ Pro is a hybrid fractional laser system for improving skin laxity, uneven skin tone, and other complexion issues.
To learn more about Rosacea treatments or to schedule your consultation at Dermatology Associates of Plymouth Meeting, P.C., serving the Philadelphia metro area, including The Main Line, Chestnut Hill, Blue Bell, Gwynedd, and Flourtown, please fill out the form on this page or call (610) 828-0400.