Restylane Lyft is an FDA-approved dermal filler that's used to augment cheek volume. As we get older, collagen, elastin, and skin elasticity starts to break down.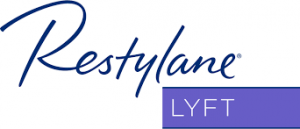 This combined effect can create cheek sagging and volume loss in key facial areas.  Restylane Lyft is an excellent solution for patients who may be experiencing volume loss and are looking to restore youthful volume in the cheeks, all while minimizing the appearance of wrinkles and lines.
How It Works
Restylane Lyft contains hyaluronic acid, a naturally occurring compound that improves collagen production while adding instant lift to the injection site. The hyaluronic acid gel is thicker than in other dermal fillers, meaning it can add more substantial volume to the cheek area.  The end result is natural lift and volume in the cheek areas, as well as subtle contouring around the eyes.  Restylane Lyft is injected directly into the cheeks via a fine-tip needle.
Area It Treats
Restylane Lyft is an excellent choice for patients who are looking to correct volume loss in the cheek areas.
Benefits
Most patients will see Restylane Lyft results after a couple of weeks.  Patients should expect minor swelling, bruising, and pain at the injection site.  Results can last anywhere from 12 to 18 months in the cheek areas.
To learn more about Restylane Lyft or to schedule your consultation at Dermatology Associates of Plymouth Meeting, P.C., serving the Philadelphia metro area, including The Main Line, Chestnut Hill, Blue Bell, Gwynedd, and Flourtown, please fill out the form on this page or call (610) 828-0400.