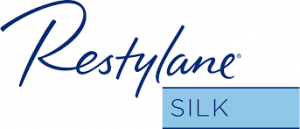 Restylane Silk is a FDA-approved dermal filler that subtly corrects lines and wrinkles around the mouth.  As we get older, collagen levels start to decline, which means exaggerated and repeated mouth movements start to form wrinkles and fine lines.  Restylane Silk smooths out these wrinkles in a way that allows the mouth to continue its natural movements, all while looking younger and more rejuvenated.
How It Works
Restylane Silk is similar to other dermal fillers in that it uses hyaluronic acid to temporarily plump the injection site.  However, Restylane Silk is different in that the hyaluronic acid particles are much smaller and smoother, which allows for precise delivery and natural results.  Restylane Silk is carefully injected via a fine-tip needle into key parts of the lip for natural-looking augmentation.
Areas It Treats
Restylane Silk is FDA-approved for lip augmentation.
Benefits
Most patients see optimal results within 14 days after their Restylane Silk injection.  Side effects include mild pain, bruising, and swelling at the injection site.  Results from Restylane Silk can last for up to 6 months or more.
To learn more about Restylane Silk or to schedule your consultation at Dermatology Associates of Plymouth Meeting, P.C., serving the Philadelphia metro area, including The Main Line, Chestnut Hill, Blue Bell, Gwynedd, and Flourtown, please fill out the form on this page or call (610) 828-0400.