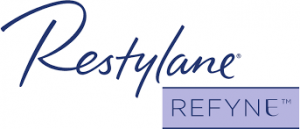 Restylane Refyne is an FDA-approved dermal filler that uses hyaluronic acid gel to smooth away the appearance of nasolabial folds and marionette lines. These wrinkles often form as a result of exaggerated and repeated mouth movements, like talking, smiling, and laughing.  Restylane Refyne is an excellent solution for patients who want to treat moderate- to- severe nasolabial folds and marionette lines around the nose, mouth, and chin.
How It Works
Restylane Refyne is made up of a unique hyaluronic acid gel that contains patented XpresHAn Technology to correct deep lines along the nose, mouth, and around the chin.  The cross-linking properties of the hyaluronic acid gel help create the most natural-looking results possible, all while improving the appearance of lines and boosting long-term collagen production.  Restylane Refyne is delivered into key areas around the nose and mouth via a fine-tip needle.
Area It Treats
Restylane Refyne is FDA-approved to treat the following areas:
Nasolabial folds
Marionette lines
Benefits
Most patients will see Restylane Refyne results after a couple of weeks.  Patients should expect minor swelling, bruising, and pain at the injection site.  Results can last up to 12 months.
To learn more about Restylane Refyne or to schedule your consultation at Dermatology Associates of Plymouth Meeting, P.C., serving the Philadelphia metro area, including The Main Line, Chestnut Hill, Blue Bell, Gwynedd, and Flourtown, please fill out the form on this page or call (610) 828-0400.