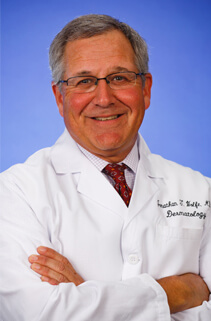 DR. WOLFE

, is director of medical dermatology for the grou

p.  He has been with the Practice since 1997.  He 

received his medical degree from Georgetown University School of medicine in 1990

 where he was elected Sophomore and Junior Class President and subsequently, Medical School President.  He was admitted into the Alpha Omega Alpha honor society and received the Ciby Geigy award for intelligence, leadership and compassion during his medical school years.  He

 

subsequently 

completed a 

full 

residency in internal medicine at Cornell-New York Hospital in New York City

 and was involved with research at the Rockefeller University, studying the immunology of psoriasis

. 

 

He 

then 

trained in dermatology and cutaneous oncology at the University of Pennsylvania school of medicine where he served as Chief Resident

 and Director of the Pigmented Lesion Group before joining Dermatology Associates of Plymouth Meeting

.  Cur

rently, 

Dr. Wolfe is Division Head of Dermatology at Einstein Medical Center Montgomery Hospital. Dr. Wolfe is also a clinical associate professor of dermatology at the Hospital of the University of Pennsylvania

 and an Associate Editor of Practical Dermatology, with numerous publications to his name

.
Philly dermatologists pick apart Dr. Pimple Popper
Dr. Wolfe Featured in Philly Voice article.
Opinion of Dr. Pimple Popper:

"I'm not a huge lover of Dr. Pimple Popper. People squeezing at things can sometimes get them into trouble. When you squeeze a large cyst, it explodes. It might be fun to watch a video of it, but it can also lead to inflammation, it can become infected and become a problem.

"It makes it more difficult for us downstream to remove the cyst because it turns into scar tissue. It's so much easier for us to remove something if it is not self-manipulated. I'm not sure from a pure dermatology point of view we are in love with Dr. Pimple Popper. She's certainly popular, though."

PV: Is what is seen on the show a part of your everyday schedule?

"Sure, absolutely. Cysts, acne cysts, pores, whiteheads, blackheads, those types of things are very common in our day-to-day."

PV: Should I pick that?

"Not everything that looks like a pore, cyst or blackhead is that. It always concerns dermatologists when people are self-manipulating things that they are not sure of what they are. It's not good medicine to start squeezing everything you see. It can lead to more problems than it appears. What if it's a growth, cancer or basal cell? You don't know what you're picking. Don't squeeze or manipulate on your own. It's not healthy its not good medicine."