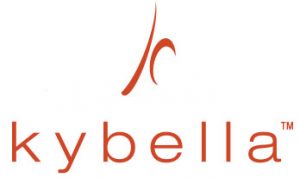 Kybella is an FDA-approved injection that can be used to get rid of submental chin fat.  Kybella is an excellent solution for patients who may have excessive fat underneath their chin and around the jawline.  The best candidates for Kybella are those patients who have excellent skin laxity and are having difficulty spot-treating chin fat through diet and exercise alone.  Kybella can only be used to treat chin fat, although it's already being used on other body areas in European countries.
How It Works
Kybella contains deoxycholic acid, a naturally occurring compound that dissolves stubborn fat cells that won't respond to diet and exercise.  Once injected into the submental fat layer, Kybella gets rid of these cells and leaves them to be naturally removed via the body's metabolic processes.  The end result is a noticeably slimmer, more contoured chin and jawline.  Kybella injections take about 30 minutes to perform; most patients will need multiple injection sessions to see ideal results.
Area It Treats
Kybella is approved by the FDA to use on submental fat tissue, which is located underneath the chin and around the jawline.  Kybella is not yet approved for the treatment of other body areas.
Benefits
Kybella results can be seen in as little as one to three weeks, depending on the volume of fat being treated.  Most patients will see swelling for a couple of weeks; after that, you should see optimal results.  Side effects include mild swelling, burning, and bruising at the injection site.
To learn more about Kybella or to schedule your consultation at Dermatology Associates of Plymouth Meeting, P.C., serving the Philadelphia metro area, including The Main Line, Chestnut Hill, Blue Bell, Gwynedd, and Flourtown, please fill out the form on this page or call (610) 828-0400.