*Individual Results May Vary 
*diVa is a revolutionary FDA-cleared laser procedure that restores vaginal health and wellness to women of all ages. The ideal candidates for the diVa Vaginal Rejuvenation procedure are women who have depleted vaginal health due to childbirth or menopause or other health factors such as chemotherapy. The safe and gentle laser treatment is an effective way to improve self-confidence and give you peace of mind.
*What It Treats
diVa is FDA-cleared to restore soft vaginal tissue after effects of childbirth or menopause. Women who suffer from vaginal dryness, painful intercourse, or urinary incontinence are good candidates for the diVa procedure. Typically, three diVa treatments spread four weeks apart are recommended to fully restore vaginal health.
*Individual Results May Vary 
*How It Works
The diVa Vaginal Rejuvenation procedure from Sciton uses cutting-edge Hybrid Fractional Laser Technology to restore your vagina to a younger, more vital state. During the quick 3-5 minute procedure, a small handheld device with a disposable tip is inserted into the vagina. The laser then combines ablative and non-ablative methods to coagulate (shrink with heat), strengthen tissue and improve overall tone. You'll experience increased thickness of the vaginal wall, improved lubrication, and better sexual satisfaction after your diVa procedure.
*Benefits
Vaginal rejuvenation has never been so easy. diVa is a non-surgical, non-invasive treatment that provides long-lasting results. The diVa treatment is completely customizable based on your desired results. Improve your sexual satisfaction and overall vaginal health with the revolutionary diVa laser resurfacing procedure.
After your quick in-office treatment, you'll be able to go about your daily activities with no downtime. For optimal results, your doctor may ask that you refrain from intercourse and using swimming pools, or hot tubs for the first 48-hours after your diVa procedure.
*Individual Results May Vary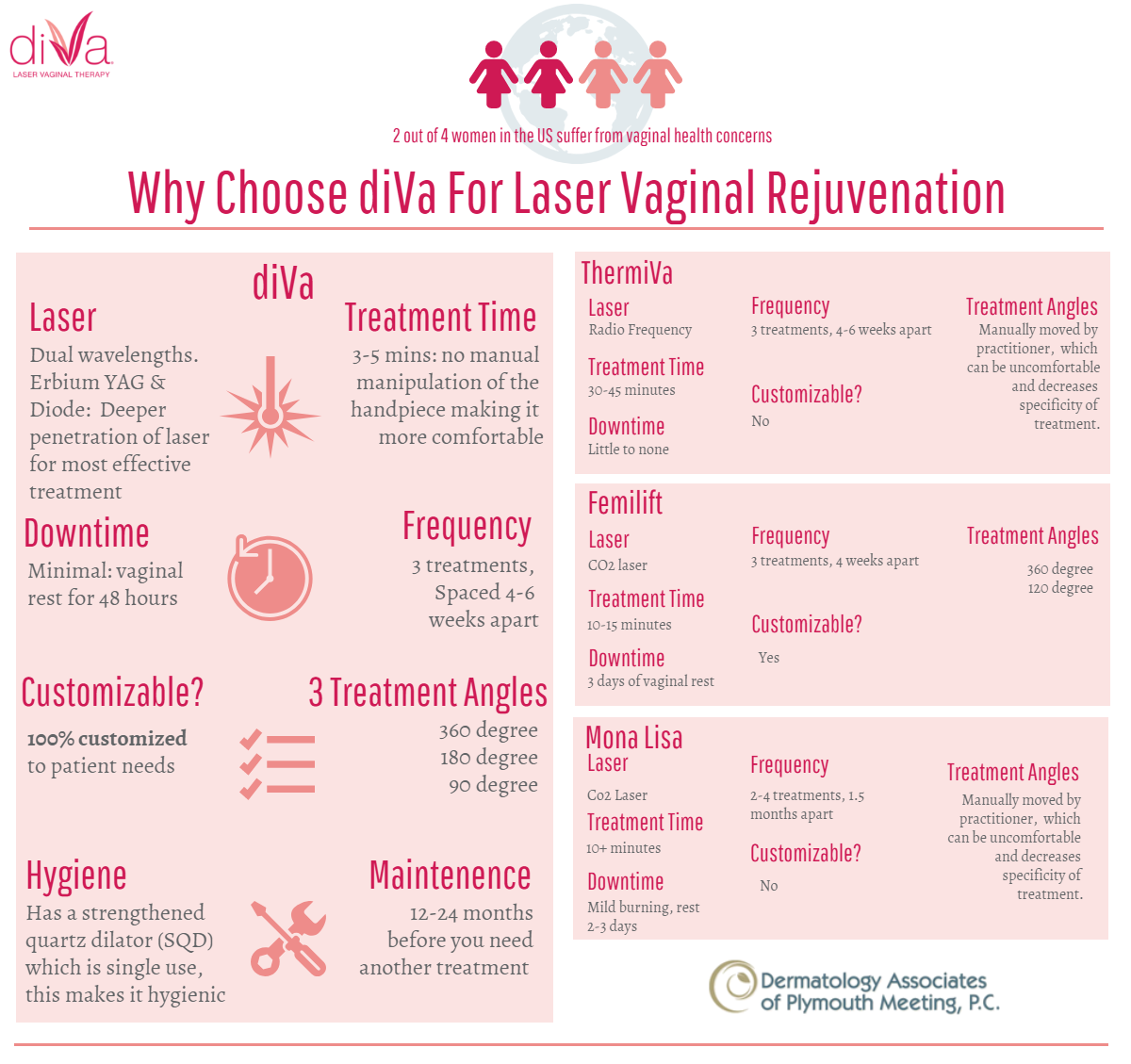 To learn more about diVa Vaginal Rejuvenation by Sciton or to schedule your consultation at Dermatology Associates of Plymouth Meeting, P.C., serving the Philadelphia metro area, including The Main Line, Chestnut Hill, Blue Bell, Gwynedd, and Flourtown, please fill out the form on this page or call (610) 828-0400.