The DenaVe is the first compact laser to use the same wavelength as a pulsed dye laser, (the leading treatment for vascular lesions for decades) but with a few crucial differences. The DenaVe can function in either continuous or pulsed modes allowing it to treat most skin issues with a higher success rate. The DenaVe also has less risk and side effects than previous dye lasers.
The DenaVe laser is the key to treating different vascular and pigmented lesions on the skin, with fewer side effects, pain, or downtime.
DENAVE IS EFFECTIVE FOR:
Vascular Lesions

Cherry Angiomas, spider angiomas, broken blood vessels, Spider leg veins

Rosacea

Pigmented Lesions
Benefits:
Fast

Precise
Minimized downtime
Less painful than previous types of vascular lasers
Less risk of bruising
Is DenaVe Right for Me?
DenaVe is safe and effective for all skin types and tones. If you are experiencing unwanted vascular or pigmented lesions, such as rosacea, dark spots, birthmarks, or sun spots, you may be a good candidate for DenaVe.
What Makes DenaVe Different from Other Lasers for Vascular Lesions?
The DenaVe is the first compact laser to use the same wavelength as previous dye lasers, but with the addition of pulsed or continuous modes. This creates a more individual and custom teatment for each person's skin needs.
Your dermatologist can treat the exact shape and size of the pigmented area thanks to the selectable filling mode, various sized adaptors, and variable spot pitch. DenaVe also reduces the risk of purpura (bruised spots) on the skin that previous dye lasers caused.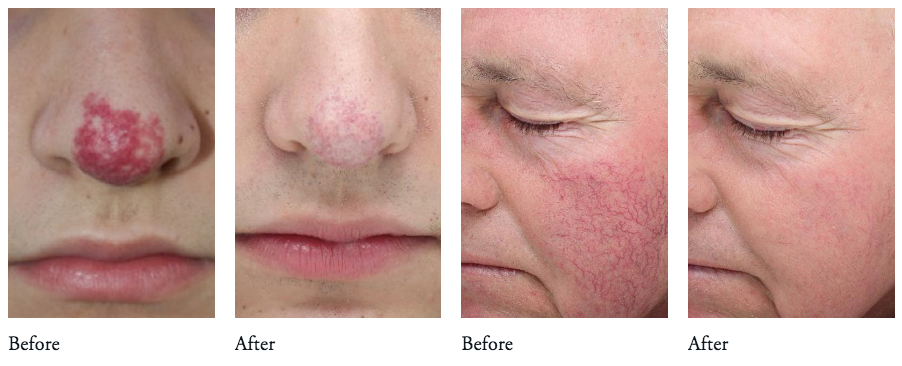 Will My Treatment Hurt?
DenaVe is a revolution for vascular treatments. It is much improved from similar lasers of the last 20 years, especially in regards to side effects and discomfort. The DenaVe has an integrated chiller to maximize patient comfort and minimize clinical downtime. The DenaVe also reduces the likelihood of purpura occurring by using customized photothermolysis- producing the perfect wavelength and pulse width for minimal side effects.
How Long Does Treatment Take?
Each patient has a private consultation with the dermatologist to assess his or her needs and specific concerns. Treatments are usually quick, starting around half an hour. Your treatment may run longer depending on the size of the area being treated, the severity of the issue, and skin individuality.
How Many Sessions Will I Need?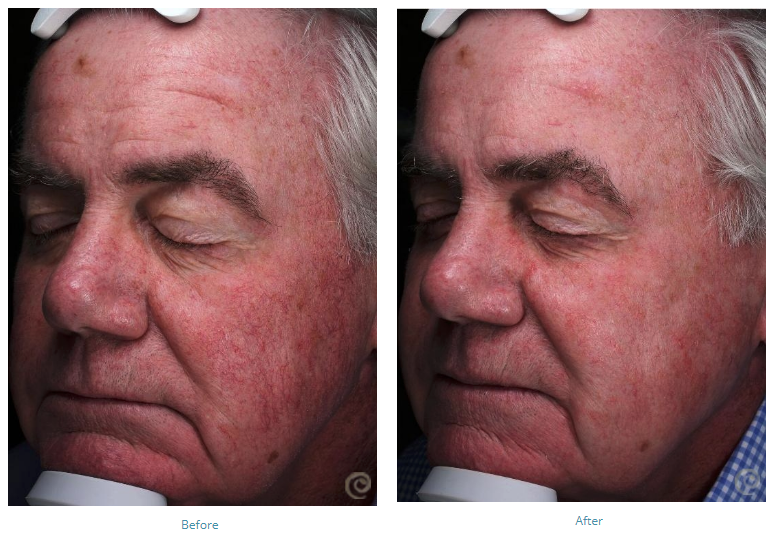 The number of sessions you'll need also depends on your individual goals, but your dermatologist will discuss your options at the time of your consult. Usually, one treatment will be enough to show a significant difference in the skin's appearance, but multiple treatments are safe when spaced 1-2 months apart.
Take the Next Step
To learn more about vascular lesion removal with DenaVe or to schedule your consultation at Dermatology Associates of Plymouth Meeting, P.C., serving the Philadelphia metro area, including The Main Line, Chestnut Hill, Blue Bell, Gwynedd, and Flourtown, please fill out the form on this page or call (610) 828-0400.