Radio-frequency (RF) is a non-surgical solution to reduce sagging skin, reduce wrinkling, and tighten skin. Heat is directed in a controlled manner to the deeper layers of skin. This induces the self-repair mechanisms of the skin to release growth factors. Collagen is produced and elastic fibers build up over time. Noticeable changes are seen after a series of three RF treatments.
Common Treatment Areas:
Cheeks
Chest or Décolleté
Chin
Around the Mouth and Jawline
Under the Eyes
Neck
Upper Arm
Upper Abdomen
Lower Abdomen
Upper Inner Thigh
Upper
Before & After Photos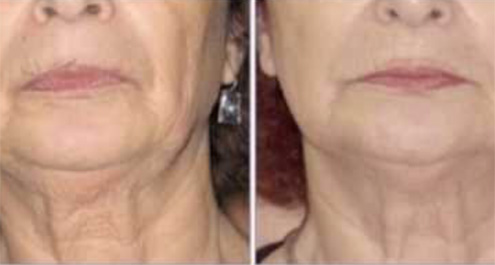 RFD Treatment Result
Conditions Treated
Loose Sagging Skin
Wrinkles
To learn more about Radio Frequency (RF) treatments or to schedule your consultation at Dermatology Associates of Plymouth Meeting, P.C., serving the Philadelphia metro area, including The Main Line, Chestnut Hill, Blue Bell, Gwynedd, and Flourtown, please fill out the form on this page or call (610) 828-0400.