The Sciton Halo™ Pro Laser is a hybrid fractional laser that's exceptional at treating multiple skin issues, including laxity, wrinkles, hyperpigmentation, and more.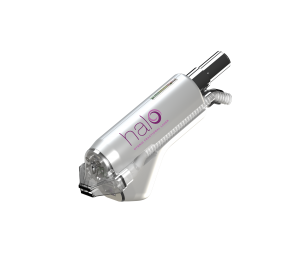 The Halo™ Pro Laser combines non-ablative and ablative wavelengths to simultaneously tighten and tone skin, while treating surface complexion issues.
The Scion Halo™ Pro Laser is an excellent procedure for patients who are looking to maximize their results with fewer treatments. The ablative fractional laser (2940nm) creates micro-channels in the skin to trigger collagen production for increased skin turnover. The non-ablative fractional laser (1470nm) penetrates the dermis to use thermal energy to trigger skin tightening for improved skin laxity.
Most patients only need 1-2 treatments from the Sciton Halo™ Pro Laser to see results. The procedure is much more comfortable than traditional laser resurfacing treatments, with a much faster healing time.
"I had BBL with a Halo treatment by Dr. Griffin. He was professional, honest, thorough and extremely knowledgeable. I highly recommend Dr. Griffin as well as the Halo treatment with BBL! Amazing results!"  – K.W.
*Individual Results May Vary 
A fantastic way to enhance your treatment with the Halo™ Pro Laser is to add a Broadband Light treatment. Halo™ combined with BBL is an optimal treatment for those who have stubborn brown spots.
View Images from our Sciton Halo Night Event!

Conditions Treated
 Signs of Aging
Sun Damage
Loose Sagging Skin
Scars
Rosacea and Redness
How Can I Make My Treatments More Effective?
While Halo alone will produce excellent results, you may be wondering if there is anything else that you can do to enhance your results. the answer is yes! Dermatology Associates of Plymouth Meeting is excited to offer PRP (Platelet Rich Plasma) Therapy. After a simple blood draw, platelets are separated while you wait. Your specialist will re-insert the growth factors, platelets, and stem cells into the treatment area. The enriched plasma helps to repair and build new skin cells. DAOPM also offers products that will help with skin rejuvenation and treatment recovery. Alastin   products are available in the office and can help to improve your Halo treatment results
"It is difficult to conceive that for years the idea of preparing our patient's skin for a laser procedure was ignored. With Skin Nectar, Alastin has changed the paradigm and created a product that "prejuvinates" the skin for laser resurfacing whereby reducing downtime and enhancing results. Nearly every resurfacing patient starts their nectar 2 weeks prior to treatment and continues on with the Restorative Skin Complex when they are done. Our patients return for more because they not only love the feel but they see results as well."
Take The Next Step
To learn more about laser treatment with Sciton Halo™ Pro Laser or to schedule your consultation at Dermatology Associates of Plymouth Meeting, P.C., serving the Philadelphia metro area, including The Main Line, Chestnut Hill, Blue Bell, Gwynedd, and Flourtown, please fill out the form on this page or call (610) 828-0400.