Varicose veins can be quite unsightly as they begin to clump up and bulge. The good news is the veins on the outside skin surface can often be reduced without harming circulation.
Spider veins, the more delicate red or blue webs which can pop up on the skin's surface, are a minor form of varicose veins and can precede development of the more unsightly variation. Sun exposure can make spider veins worse by breaking down collagen under the skin.
We offer our patients both laser and Sclerotherapy treatments to diminish the look of veins.
Before & After Photos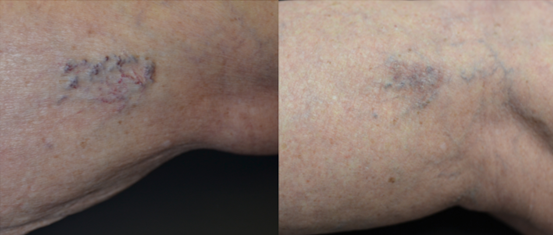 Leg Vein
Treatment Options
Sclerotherapy improves the look or gets rid of spider veins and smaller varicose veins.
To learn more about our treatments for varicose and spider veins  or to schedule your consultation at Dermatology Associates of Plymouth Meeting, P.C., serving the Philadelphia metro area, including The Main Line, Chestnut Hill, Blue Bell, Gwynedd, and Flourtown, please fill out the form on this page or call (610) 828-0400.