Sun damage, which may have occurred at childhood or recently, can leave your skin looking thin, with varying pigmentation, including brown or red spots. The harsh UV damage can take up to ten years to take its toll. Some spots, if left untreated, may even become dangerous. Be safe and schedule a full-body check up annually, so any suspicious spots can be examined and removed. For non-cancerous spots, we offer different treatments to dramatically improve your skin with long-lasting results.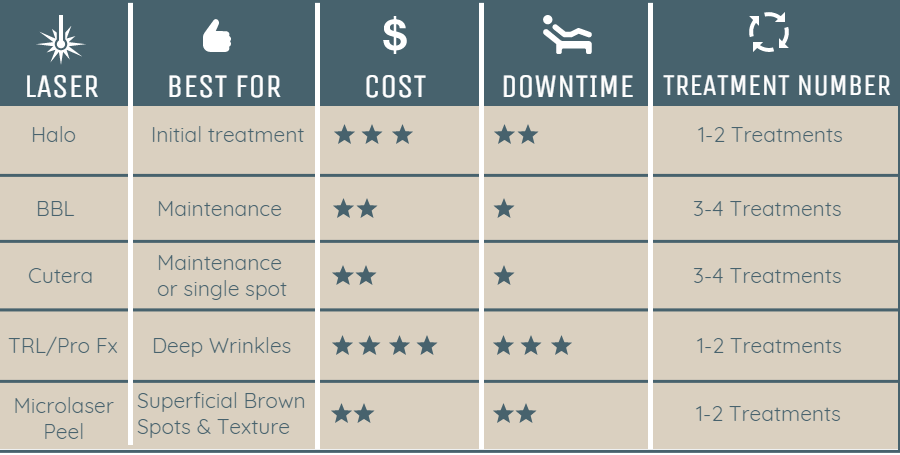 Treatment Options
Fractionated CO2 and Full Field Resurfacing can be used for several conditions, including sun damage.
Intense Pulse Light (IPL) safely treats sun damage.
Laser treatments can rectify a number of conditions, including sun spots.
ProFractional™ is an ablative laser treatment used to resurface small areas of the skin to boost collagen production.
Contour TRL™ offers full-field facial resurfacing to treat a variety of skin issues.
BBL™ technology uses intense pulsed light (IPL) to treat sun damage, wrinkles, acne, and much more.
Halo™ Pro is a hybrid fractional laser system for improving skin laxity, uneven skin tone, and other complexion issues.
MicroLaserPeel® addresses complexion issues associated with the top layer of the dermis.
NanoLaserPeel™ is a light skin resurfacing treatment for addressing complexion issues, like pigmentation.
Photodynamic Therapy safely removes pigmentation, brown and red spots.
Chemical peels have been shown to prevent breakdown of collagen and stimulate the process of natural skin renewal.
Microdermabrasion is effective in reducing fine lines, age spots and mild acne scars.
To learn more about our treatments for sun damage or to schedule your consultation at Dermatology Associates of Plymouth Meeting, P.C., serving the Philadelphia metro area, including The Main Line, Chestnut Hill, Blue Bell, Gwynedd, and Flourtown, please fill out the form on this page or call (610) 828-0400.